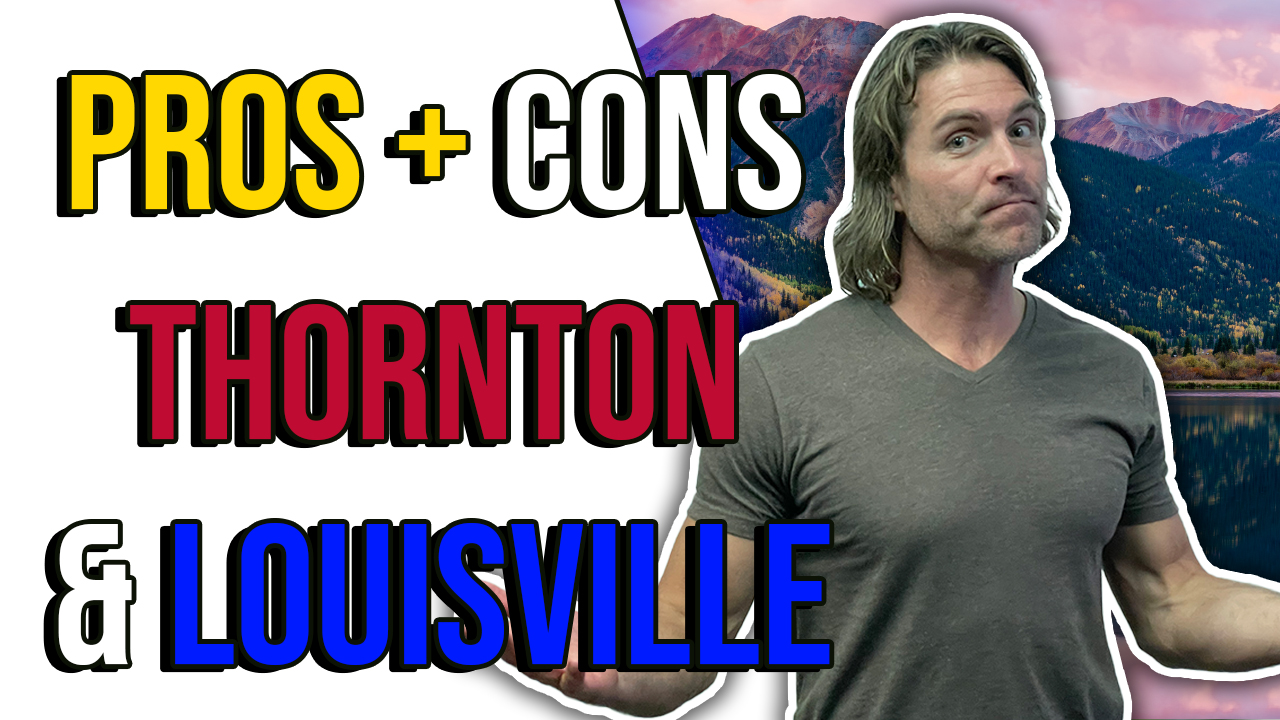 The Pros And Cons Of Living In Louisville And Thornton, CO
Have you recently decided to relocate and have Colorado as a state on your bucket list? In this video, we're going to talk about the pros and cons of two amazing Denver suburbs: Louisville and Thornton. We'll look at each area's lifestyle so you know exactly what to expect when you move to our beautiful area.
Verify your mortgage eligibility (Dec 6th, 2021)
Louisville, Colorado
The first up-and-coming Denver suburb is Louisville. If you've heard about this place, it's probably because it got voted as one of the number one places to live, not only in Colorado but in the country.
This neighborhood taps everything from best school systems to best housing to best entertainment/ They are off the charts all the way around. Some of the pros of living in Louisville include a booming housing market and a great environment for raising young families. On top of that, you're right next to a ton of really amazing hiking trails and outdoor activities.
Verify your mortgage eligibility (Dec 6th, 2021)
As with any city, there are some downsides to this neighborhood. For one, the commute is kind of rough. If you have to go to Denver, it's not that it's far; it's just slow. So if you're living in Louisville and you're going all the way to Denver for work, be prepared to double your commute time. Sometimes it can even be triple the time. It's a long drive in, and nobody really knows why but there always seems to be construction, an accident, or a lane closure.
With as fast as Louisville is growing, career opportunities are abundant. However, there are a lot of applicants, so make sure that your application stands out. However, if you're ready and prepared to commute, you may have a better chance of getting a job.
Thornton, Colorado
The next suburb you should check out is Thornton. A lot of our clients that start researching on their own don't initially describe this community as one of their favorite places. This is because, while it's close to the airport, has constant construction, and constant new builds, they're not finding too many houses. Let me tell you why.
Verify your mortgage eligibility (Dec 6th, 2021)
Thornton is one of the best places that you should be looking into. It's rapidly becoming one of the hidden gems of Denver. Because of all the construction and new builds that are happening, tons of new houses are also coming up. They're rebuilding communities and redoing schools. There is also an abundance of new builders that have flooded and taken over all the open space, which means you can be one of the first ones to customize your new home.
This may seem like a little bit of a downgrade if you were just looking at Louisville and their great school system. Even though the school system in Thornton right now is a little shaky, they're rebuilding everything. You're switching school rates for growth rate, which means the more people that come in, the more new schools will be built. The school grading system is just going to keep going up, as more schools mean more of the best teachers in Colorado.
Many people find that being so close to the airport is a con. Depending on where you're at, you're only about 30 or 45 minutes away. However, if you have to travel a lot for work, Thornton is an ideal spot for you. It's a great place to live if you're looking for vacations throughout the year. You can just jump right down on the highway and hop on a plane.
Verify your mortgage eligibility (Dec 6th, 2021)
Another pro of Thornton is that you're only about 30 to 45 minutes away from the closest ski resort, El Dora. This means you can take a half-day, go hit the slopes, and be back in time for dinner without a hotel reservation. Now that sounds ideal to me.
Weighing The Pros And Cons
As you know, not everything is all sunshine and rainbows when you're thinking about moving and relocating to Colorado. There are some cons. However, if you can get past some of that negativity—like Thornton's school system—you can take advantage of the growth factor. This could set you up for some huge equity growth in your property.
As we see families and people moving to certain locations here in the Denver Metro, things just seem to be getting better. I've been here for a decade, and if you saw where I lived and bought my house seven years ago, you would have thought I was freaking crazy. We bought in a really up-and-coming neighborhood called Arden. Our neighbors happened to be meth dealers, and we even had some drive-bys. But guess what? We bought our house for $430,000 and are in process of listing it right now for a million dollars—just seven years later.
Verify your mortgage eligibility (Dec 6th, 2021)
There are some pros and cons no matter where you end up living, whether it's Colorado, New York, or Florida. So if you're thinking about moving and relocating to Colorado, definitely give our channel a little bit more of a view because we do have a lot of information that could be beneficial for you. And when you're ready to make that move, go ahead and reach out to us and we'll be happy to help.
Show me today's rates (Dec 6th, 2021)