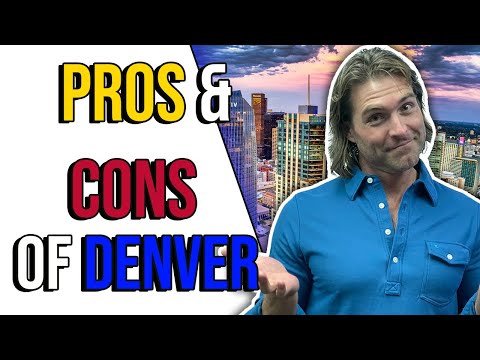 The Pros And Cons Of Living In Denver, CO
Are you thinking about moving or relocating to the Denver Metro area and want to know what it's really like? In this video, I'm going to give you the pros and cons of living in Denver, Colorado. We'll look at everything from the cost of living to recreation to give you a good idea of what to expect.
Verify your mortgage eligibility (Dec 6th, 2021)
I've been here for a decade, and trust me when I say that Denver is blowing up right now. So if you're moving here for work or simply want to enjoy the Colorado lifestyle, it's important to know what you're getting into. The good thing is that for each con we'll discuss, we'll also give you three pros.
The Cost Of Living
The first con that everybody tells us about, of course, is the high cost of living. Denver Metro has been a hotbed of activity in the real estate market for a very long time. My wife and I have been here for a decade, coming from Chicago. When we first moved here, our rent was a measly $1,300 a month. If you were to rent that same unit now, you'd be paying nearly $2,000. When you pair the high cost of buying a home with those prices, you can see what it's the number one complaint we get from clients.
Verify your mortgage eligibility (Dec 6th, 2021)
Despite the high cost of living, Colorado is an outdoor Mecca. It's a beautiful state with gorgeous mountains, fresh streams, lush forests, and abundant wildlife.  This means that there are all sorts of cool things to do. So if that high cost of living is getting to you, there's plenty of free activities available to save you money. You can take out your bike, go for a hike, and enjoy our tax-funded wide open green spaces.
With our beautiful state, generally mild weather, and 300+ days of sun a year, the higher cost of living is definitely worth it. When you live in Denver, you'll have plenty of different activities to do that support an active outdoor lifestyle.
Hitting The Slopes
If you're big into skiing, another con of living in Colorado is the price of ski passes. These can be very costly, not only if you live along the Front Range but if you're a weekend warrior as well. If you like to ski on a Tuesday, for example, it's not just the $1,000 you'll spend on the ski pass. You're also going to probably need a four-wheel-drive vehicle that only gets 20 miles or less per gallon. With the closest ski resorts about 45 to 60 miles away, skiing a few days a week will really cost you.
Verify your mortgage eligibility (Dec 6th, 2021)
While skiing can be pricey, there's plenty that offsets the ski pass cost. First, you're getting out and enjoying all of those great sunny days that Colorado has to offer. There's also a variety of different terrains and topography to ski in including mountains, valleys, hills, lakes, fields, and flatlands. Here in Colorado, we have 42 state parks to choose from and 26 ski resorts. So just because ski passes are expensive, there's still a ton of fun stuff to do.
Denver Traffic
The next con is the traffic, which is brutal here in Denver Metro. Just to go from one side of town to the other—a total of about 3 miles—it can sometimes take you 45 minutes.  The constant construction that we seem to be having, including the widening of Express Lanes, has shut down I-70 and rerouted traffic.
I'm sure this is probably happening in other cities as well. I'm from Chicago, and it seems that there are only two seasons there: winter and construction season. However, Denver is adjusting its infrastructure to handle all of the influx of people that have been moving here, year over year, for a very long time. In fact, Denver has outpaced the national growth average for cities ever since the 1910s. This means that more people move here than the national average of people moving to large metropolitan areas.
Verify your mortgage eligibility (Dec 6th, 2021)
While you will have to deal with the traffic, there are some great pros of all that driving. First, Denver has some amazing food and cuisine that are well worth a trip through the city. Our food is getting better all the time. There's also an awesome event called 50 to 80 Week, where a ton of restaurants offer a special menu at a discounted fare. This allows you to get a taste of all types of cuisine.
Because there are now a ton of transplants in Denver, it does make for meeting some interesting new people with different perspectives. There are so many walks of life when living here, which makes for an interesting night out. And while traffic may be annoying, you'll also find lots of job opportunities in everything from oil companies and travel industries to leisure and service jobs. You name it, we got it.
Trash And Litter
The fourth con of living in Dever is the trash. The trash in Denver is frickin' horrendous. I don't know what it is about people lately, but I see people almost every single day drinking a McDonald's cup and literally launch it or toss it out of their car. I'll walk my dogs through the neighborhood by these apartment complexes, and you'll see cars where somebody was just eating lunch or dinner and they just tossed it right on the sidewalk.
Verify your mortgage eligibility (Dec 6th, 2021)
I don't know if that's just a thing with COVID, or a matter of people being stressed out or down on their luck. However, I never understood why the hell you would basically litter for no reason when there are garbage cans all over the place here in Denver and Colorado as a whole.
Let's offset the negative of the trash scene with the fact that Denver is a very, very, very dog-friendly city. I have two dogs myself, and there's a ton of dog parks, a ton of hiking, a ton of parks, and a ton of walking areas. While you've still got to keep your dog on a leash, it's one huge benefit of living in Denver. With so many people that are active here, having a little pooch with you makes walks that much better.
Another positive of living in Denver is the quick access to the mountains for hiking and outdoor day trips. There are also plenty of Airbnb and Vrbo options for any loved ones that want to come and visit you if you can't afford that big house right away.
Verify your mortgage eligibility (Dec 6th, 2021)
Summer Fires
The last con of living in Denver is summer fires. You may be unaware that Colorado has super low humidity. In the summertime, it can get super dry up in the mountains. If there's a lightning strike, poof—in no time a thousand acres are burning. We were just house-sitting for a friend of mine up in Eagle that relocated from Chicago. They just got a puppy but wanted to go visit their mom and dad down in Florida.
As we house-sat and helped with puppy training, we decided to take the dogs to Sylvan Lake State Park. We did about 7-8 miles worth of hiking on one beautiful, gorgeous day. That evening, there was a lightning storm that burned 1,400 acres by the next morning. There in Eagle, people had a hard time breathing. So just be aware, our summer fires are frickin' brutal.
Rodeos, Taxes, And Red Rocks
To offset that negative, let's talk about three more positives of living in Denver. First, living in Colorado means enjoying the rodeo. Our rodeos are amazing, especially up in the mountain towns of Granby and Frazier by Winter Park. Don't forget to also check out Steamboat Springs for their amazing weekend rodeos.
Verify your mortgage eligibility (Dec 6th, 2021)
You'll have tons of fun going up into the mountains, doing a little day hike or some camping, and then checking out the rodeo scene on a Saturday night. The best thing besides the bull riding is the mutton busting. Young kids put on a helmet with a faceguard and then they basically wrap their arms around a sheep. They have the sheep take off, and the kid who hangs on the longest wins. It's amazing and the kids have a blast.
Another pro of living in Denver is our low property taxes. While home values are obviously increasing, taxes are still great for homeowners at the moment. And last but not least, the final pro of living in Denver is Red Rocks Amphitheatre, just 15 to 20 minutes down I-70. It is a fantastic place with music, yoga, sunrise church services, festivals, and more. There are even Movies On The Rocks on Monday nights where they play an old movie outdoors.
Enjoy The Colorado Lifestyle
As you can, there's plenty of pros to living in Denver despite the few cons. With beautiful weather, plenty to see and do, and a thriving community, I'm sure you'll enjoy living the Colorado lifestyle right here in this city.
If you have any questions about moving to or living in the Denver Metro area, feel free to reach out to me and I'll be happy to help. Don't forget to also subscribe to my channel so you never miss an episode of my show, all about Denver Metro living and real estate tips and tricks. Stay tuned to see what I feature next!
Show me today's rates (Dec 6th, 2021)